This is a badge bit (BB) that is part of the
PEP curriculum
. Completing this BB is part of getting the sand badge in
Food Prep and Preservation
.
In this Badge Bit, you will cook overnight oats with a crock pot.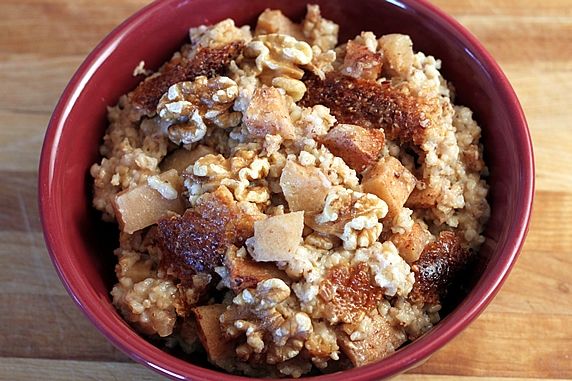 Here's Jocelyn's recipe
for making overnight oats to help you out:
Jocelyn Campbell wrote: Overnight Oats
These are cooked overnight oats, not the soaked overnight oats that are not cooked. This is breakfast cereal I can get behind! I think I first learned the basics of making these from Katelin Ginther who has cooked for our events several times and to rave reviews.

One of my five (!) crockpots has a warm setting that I use overnight for these oats. This warm setting does not scorch the edges of the oats as some of my other crock pots do. Alternatively, bring the liquids to a boil and pour over the rest of the ingredients in a thermos or thermal cooker, or bring all to boil in a pot on a burner and then put the pot in a haybox cooker over night.

These ingredients are based on two cups liquid to one cup old-fashioned rolled oats - the slow cooking kind, not instant or quick cooking. The apples technically do add a bit of liquid, but if you prefer three cups liquid to one cup oats, you might wish to increase the liquids a bit more. Basically, it's substituting half the water measure with full fat coconut milk. If you prefer steel cut oats, adjust the total liquids to four cups liquid per one cup steel cut oats, of course, again, with half the liquid being the full fat coconut milk. Steel cut oats - the kind that cook even slower than old-fashioned rolled oats! - do get fully done with this method, too.

For 8 or so healthy oat eaters (or adjust for your circumstances), in a crock pot combine:
--4 cups organic old fashioned rolled oats
--2 cans (4 cups) full fat organic coconut milk
--4 cups water (optional: substitute half a cup of the water measure with half a cup of butter or butter flavored coconut oil or regular coconut oil - extra yum!)
--3/4 teaspoon salt, or to taste
--2-3 teaspoons cinnamon, or to taste
--3 small or 2 large apples, cored and chopped (we prefer to leave the skins on)
--1.5 cups raisins, optional (or add in the morning after cooked)

I might stir just a bit to combine and distribute the seasonings. For large quantities like this, or starting very late in the evening, I use hot water and start the crock pot on high to get it up to a good, hot temperature to start. (I haven't found that necessary for smaller batches or earlier evening starts.) Just don't forget to turn it down to warm after about a half hour or hour! No need to stir again until just before serving in the morning.

I think cooking the coconut milk, apples, and raisins makes the oats plenty sweet enough for me, though I see some folks adding sweeteners. In the morning, we typically put out these toppings for folks to choose from:
--brown sugar, and/or honey, and/or maple syrup
--shredded, unsweetened coconut
--raisins
--pumpkin seeds
--sunflower seeds
--chia seeds
--flax seed meal
--applesauce
--whole milk, unsweetened yogurt
--coconut or almond milk

Paul and I eat leftover overnight oats cold out of the fridge as a snack - yum. Or I convert them to muffins or pancakes for workshop attendees.
Here are some other overnight oats recipes:
-
Cinnamon Overnight Oatmeal
-
Basic Overnight Oatmeal
-
Apple Cinnamon Overnight Oats
-
German Chocolate Cake Overnight Oats
-
Blueberry Muffin Overnight Oats
Overnight Apple Cinnamon Oatmeal
Overnight Pumpkin Pie Oatmeal
Overnight Banana Walnut Oatmeal
Upside Down Pineapple Oatmeal
*please note that this last recipe was cooked for 4 hours at high heat, which does not count as "overnight"
*however, if this recipe was done for 6 hours at medium to low heat it might get similar results and be "overnight"
To complete this BB, the minimum requirements are:
- at least 1/2 cup of dried oats
- the oats are cooked without the use of a microwave
- the oats are cooked for a minimum of six hours
To show you've completed this Badge Bit, you must:
- post a rough recipe of how you prepared your oats
- post a picture of your dried oats
- post a picture of your oats getting cooked n a crock pot (with a timestamp or watch)
- post a picture of your cooked oats in a crock pot (with a timestamp or watch)