Listen Online
Download
Get all of the podcasts in convenient, giant zip files
Subscribe on iTunes
Summary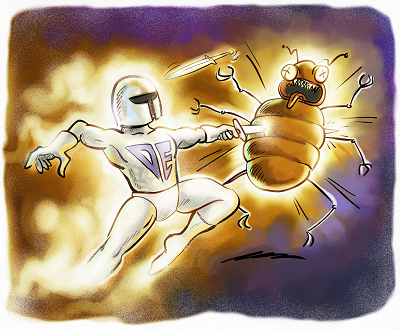 During this podcast
Paul Wheaton
and Jocelyn Campbell discuss Paul's
diatomaceous Earth
article
in detail. The number one reason to have it? It is a general
insect control
that you can eat. Anyone that eats grains. Eats it.
Diatomaceous Earth, or DE, is far more effective than any other pesticide because bugs can't build resistance to it. It works in two different ways. It is sharp for insects. It cuts and gets caught in the joints of their exoskeleton. It is a desiccant, meaning it dries things out. It turns bugs into little bug jerky.
Paul covers the variance in the grades of DE. There is a food grade version.
Diatomaceous Earth is the best stuff you can use on
bed bugs
,
fleas
,
sugar ants
, carpenter
ants
,
flea beetles
and
chicken mites
. Add a little DE where the
chickens
take their dust bath. It is even used on
slugs
and
pin worms
.
It is often used for long term
storage of legumes and grains
.
Also, it is so useful on the homestead Paul calls it, "Duct tape for the homestead."
Relevant Links
Paul's diatomaceous earth article
Support the Empire
Help support the empire and get all of the podcasts in bundles
here
To support production of these podcasts, make a donation
here at Paul's Patreon
page.