Strangeloop:  Thanks for the 2 links.  The zero energy one I have not seen before so that's cool.  The natural home website I found maybe 3 or 4 years ago when looking into dry stack and was a very important site for me personally b/c it shows it could be done to heat your whole house on
solar
.   Although my location is more challenging with a lot of cloud cover during the year.   However this site was a huge help and I applaud him for giving so many drawings .  I also give him a great of credit for his design and implementation!! 
  It takes people to go out on a limb and push conventional thinking.
There were 3 main influences that I've since come to knowledge of but this house was a great launching off point.  Paul mentioned earthship, no doubt about that one.  The angled glass in the front and the floor plan are both heavily influenced from mike reynolds designs.  The 2nd is PAHS by john hait, his envelope design (mostly) along with the earthtubes. 
Rob Roy
was the 3rd I believe where the use of drystack as a DIY building system and footer and rear wall designs.   The whole design of his house is a real
gift
to anyone with codes to contend with.  The house can be easily built in the strictest of code area.  Even the Dry stack could be done away with and use full concrete.  This is important b/c if the world is to change is design strategies we need
shelters
that use what we have now and is excepted in strict code areas.  He also does consulting I'm sure he be worth the added cost for anyone who needs / wants some help.
There's a few things in the design I don't understand.
* His use of insulation (rigid) on the rear and side walls in addition to the horizontal umbrella/cape/skirting that goes out 20'. This is interesting b/c in design where you are trying to store energy and moderate your internal temp when the sun heats up the house in the summer you want a direct path of dense mass between your home and the surrounding earth.  I believe he was just a bit nervous about a full Passive Annual Heat Storage type house and compromised by adding 2"'s of blue board insulation along rear wall vertically.  I mentioned have to shade in the summer b/c of overheating.  I'd be interested to find out if he removed the rear wall vertical  insulation (would be way to expensive to break insulation cape/skirting/umbrella ,what ever u call it ), would he have less overheating issues?
* The second thing is the requirement of a floor plan to have interior high mass walls.  He makes sound as if they are needed to act as a fins of a radiator, increasing the surface area of the underlying mass.  I'm not sure how much difference it makes but he feels that it makes a lot of difference.   
The earthship and all
solar
design have one similar issue.  They all try to collect the heat in the living space!  I eventually came to the conclusion that this is a bad idea.  There are Tons of solar houses that have to shed summer sun, heck even I HTM.  Houses with out enough thermal mass and highly insulated is the worse.  So if heat is so valuable we need to use every bit.  When you live in the solar collector there's only so much solar energy you can
bear
to be in however if you move the solar collectors  out of the house wow neat things start to happen.  Instead of 80 degree's being the max temp the collector can go to, the temps can now approach the temp of a solar
oven
(200-300 degree's f)  This changes things substantially.  The challenging solar environment ( rainy, cloudy) I live in has
led
me to this conclusion, others in more moderate area's can probably work with other designs to accomplish their goal
The solar collectors most likely built from single pane glass sheets.  They are pictured in front and to the sides of our house. FYI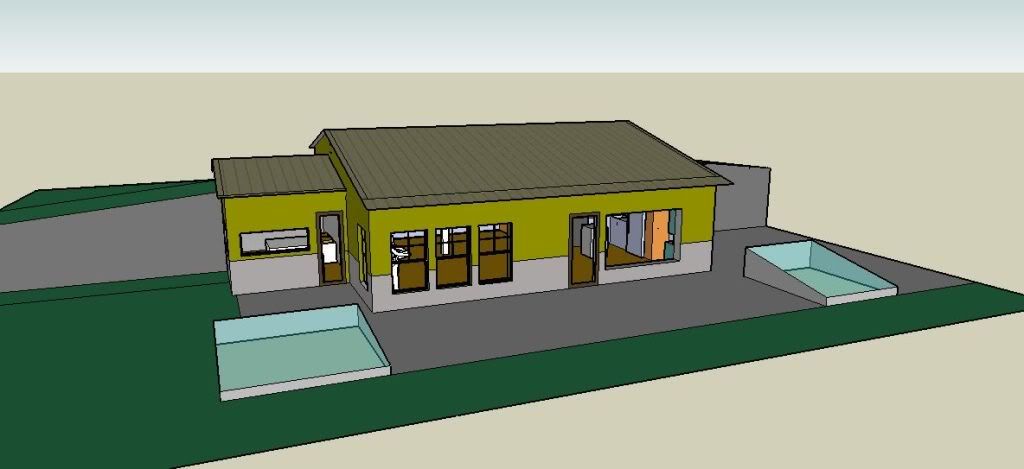 This option allows use of other types on energy sources to be used.  For instance if the temps are not what I need it to me, i can turn these external solar collectors into a
compost
pit to harvest that energy given off during anaerobic decomposition of organic matter ( leaves , twigs,
compost
, grass).  So instead of just depending on the sun there is a wide variety of natures matter that can be used
  flex fuel for the home
which means more independence.  This also gives me the advantage to shut the collectors in times of no sun or dead winter where I could lose more then I gain.  Shutting off your main source of light to your house is doable but it some cases a pain.
I hope I'm not beating a dead horse but moving the solar collector from your house also offers much more
freedom
in floor plans.  I personally (and wife) do not really like the interior layout of earth ship type houses.  No light from rear , the hallway in the front disconnected rooms.  We prefer a much more open house environment that can circulate fresh air to all parts of the house.   I've noticed in Reynolds latest designs he is dividing the front walk way/solar collector from the rear part of the house so I think he's even come to terms with the challenging of overheating the collector.  As you can imagine i bet this makes the house even a bit darker.
sorry for the book..it's just i'm pretty into coming up with better designs.  The passive exterior collector is even my own idea
Jeff in NY