Years ago, I had the perfect
chicken
guarding dog, although she didn't start out that way. She started out as simply a gorgeous dog, obtained from the North Hollywood dog pound at around 5 months of age. (Sorry, no digital photos of her extreme puppy cuteness currently available.)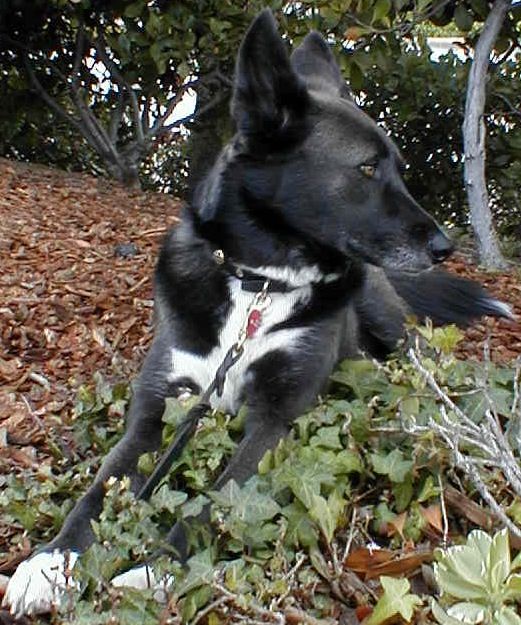 She became the perfect
city
dog, wearing a (very short) leash to follow the law, but never needing one. She understood sidewalks versus streets and although she always reached the corner before me, she never crossed without my say-so.
The first time she ever saw a
chicken
, she had one in her mouth within seconds of gaining access. I saw this, yelled "Java, No! Drop it!" and she did. We ended up renting this house with chickens and she once broke into the coop, only to be repelled by the big 'ol Barred Rock rooster. I came out when I heard all the commotion and found the rooster, comb bloodied but undaunted, looking unreasonably large, the 4 hens huddling behind him and Java in the opposite corner, projecting "Get this crazy thing away from me!" I let her out of the coop and she never broke in again, but we didn't ever let the hens out.
Later on I got married and we moved to Wisconsin and our current home. Pretty soon after that we got chickens. We built them a flimsy pen using black plastic netting, because it looked good. Java was fascinated. We called it "Chicken T.V."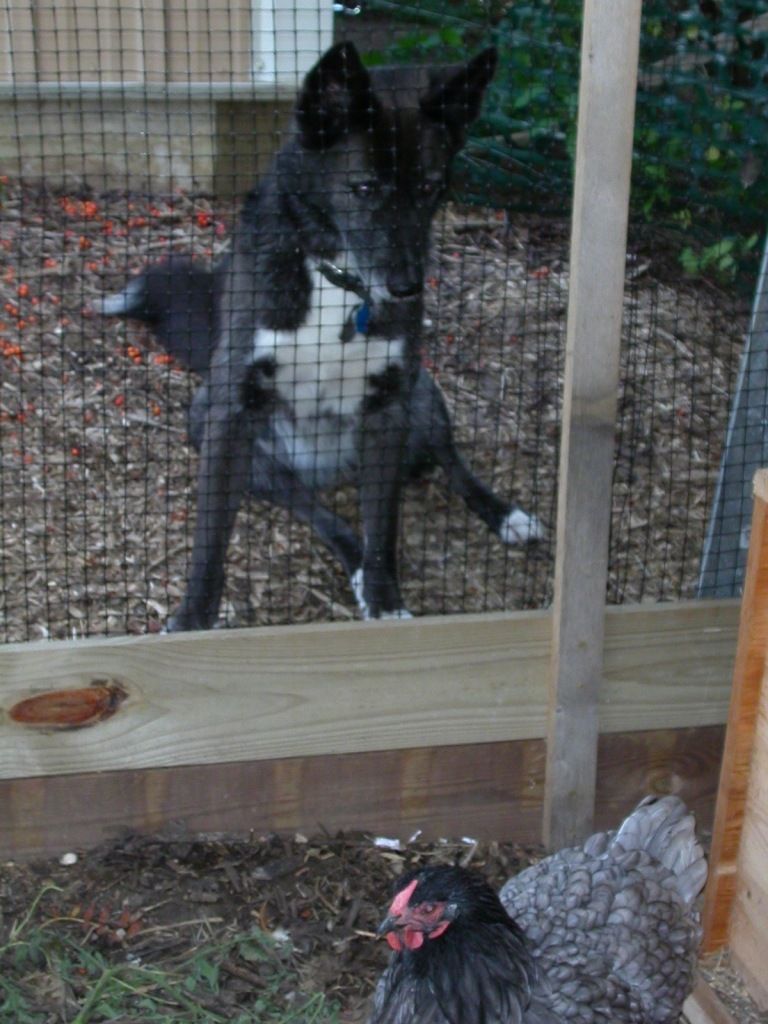 She watched those chickens for weeks. We let the hens out, but only if the dogs were in. However, one day we looked out to discover that we had forgotten to close up the pen the night before, and the dogs were out there with the chickens! Oh No!
No problem. Java had decided these hens were hers. Our puppy Mocha was a gentle soul and had no inclination to chase or shake a hen, thank goodness.
We never lost a hen as long as Java was alive. She slept in the house, with us, and never needed to go outside at night but one night she woke me up at 3am very insistent and whining. I stumbled to the back door and when let out she dashed across to where the chickens lived. I don't know what she chased off, but it worked.
One year after Java died, we still had Mocha, and we had a new puppy Pico (a rescue
cattle
dog mix obtained at less than 10 weeks to try to ensure he saw the chickens as group members versus prey) but neither were any good at guarding the hens. When the fox came and started killing, the dogs woke me up, but it was more like "Mom, can you get the chickens to stop screaming? They're keeping me up." We lost 5 hens that summer. We now have an electric door on the coop that opens and closes with dawn and dusk, but I miss having a dog that keeps a supersonic ear open for the fox even when inside with me.
So, that's a long preamble to my request: I am hoping to find a puppy raised on a farm/homestead/suburban lot with chickens. I do think it's helpful to have that extra-early exposure, but I also think the puppy is better off staying with her mother and litter for at least 10 weeks. Mocha was a GSD from imported German Schutzhund lines and he was kept with his mom and litter until he was 12 weeks old. When the pups were big enough to climb out of the whelping box, the group was moved to a little house in a grassy enclosure in the farm's front
yard
. Mocha arrived knowing many things, including where to
pee
and
poop
. Very helpful.
(Pico had to find a new home after he "heeled" an elderly neighbor (meaning--bit her on the back of her leg near her ankle) for the second time, after much training to try to stop the behavior. He never bit a chicken, or anybody else, but I do have neighbors and they do have the right to live without fear. Sadly, he was really a fearful dog himself and hopefully his new female Malinois companion will give him the confidence to live his life without biting anyone else ever again. Mocha, such a sweetheart, was always a follower rather than a leader and Pico was totally uncomfortable with that.)
Anyway, I digress. Does anybody know of someone who is planning to have puppies this spring? I'm thinking the PNW is probably too far for me to drive for a puppy, but almost anywhere else might work. I'm fond of dogs with pricked ears and I've been fascinated by "Scotch Collies" on the web, but I'm pretty open minded. My dream is a female puppy who will be 30 to 60 pounds when grown, not a pure bred (or at least not an AKC overbred/inbred) but coming from working lines. She will live in the house with our family (two kids, a cat, a house bunny) and may very well train/compete in agility.